Paducah Public Schools Online Registration for 2023-24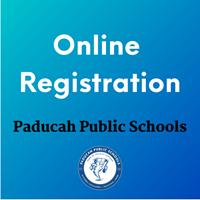 Thank you for registering your children for 2023-24 school year at Paducah Public Schools. You'll find links for online registration here. If you can't find what you are looking for, please call us at 270-444-5600 ext. 1014 or send us an e-mail.
Registration for New Students
For new student registration, please click the button above. A form will download. Open the form, complete it, and hit the submit button at the the bottom of the form.
If you have questions, please send us an e-mail or call us at 270-444-5600 ext. 1014.
Registration for Returning Students
Parents of existing (returning) students or those who need to add a new student to their existing household can register by logging
into their Campus Parent Portal. After logging in, click on More, then click on Online Registration.
Campus Parent Portal Login