Paducah Middle Wins Fourth Straight MathCounts Chapter Competition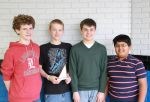 Paducah Middle School won the chapter competition, Reese Butler was second, and Grant Hutcheson was third overall at the Mathcounts chapter competition held at WKCTC on February 18. PMS has won the chapter competition four years in a row. With the win they advance to state competition, which will be held March 30-31 in Louisville.
MATHCOUNTS is a national enrichment, club and competition program that promotes middle school mathematics achievement through grassroots involvement in every U.S. state and territory. Consisting of fun and creative problems that promote critical-thinking and problem-solving skills, the MATHCOUNTS competitions have written and oral rounds, as well as individual and team components.
Math Counts Team Places 11th at State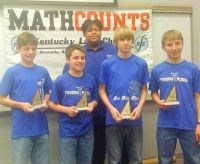 Congratulations to the 2010 Mathcounts team who placed 11th out of 27 teams that competed on March 20 in Louisville. They were excellent representatives for Paducah Middle School. Those that competed were Justin Holt, Miles Butler, Trae Hampton, and Reese Butler.
Paducah Middle Wins Mathcounts Competition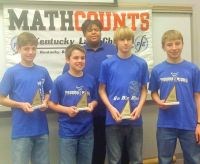 Congratulations to the 2010 Mathcounts Team on being the 2010 Kentucky Lake Chapter Champions.

Paducah Middle School placed first out of the four schools that competed. All of the students put forth outstanding effort which resulted in seven out of the eight students that competed making it to the final round. Reese Butler swept the countdown round and placed first, while Miles Butler came in second.

Overall, Justin Holt came in second place while Miles Butler came in third. Justin Holt, Miles Butler, Trae Hampton, and Reese Butler will compete at the state level in Louisville Kentucky on March 19 and 20.

Other students that competed were Mikey Davis, Andi Boyd, Lilly Burba, Erin Burba, Jordan Riley, Elizabeth Wiggins, and Kelondre Quarles.
Math Counts Team Headed to State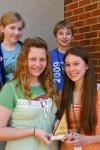 The Paducah Middle Math Counts team will be going to the state Math Counts competition in Lexington on March 27-28 after a runner-up finish in the Chapter competition.

Caldwell County, Heath, Livingston County, and Lone Oak teams also participated in the Chapter competition, which was held February 28 at WKCTC. Paducah Middle teacher Connie Payne sponsors the team.

Pictured are team members (clockwise from top) Catherine Miller, Justin Holt, Alicia Humphrey, and Caroline Washer.