Paducah Middle parents and guardians, please see the attached letter for important information on how we will be handling your student's school-issued computer for the summer. A picture of the letter is attached. You can also download a copy of the letter at this link:
https://5il.co/1as88
Paducah Middle's 8th Grade promotion ceremony will be held Thursday, May 26, 2022, 9:30 a.m. at Heartland Church, 4777 Alben Barkley Drive. Each 8th grade student will receive four tickets. Tickets will be required to attend.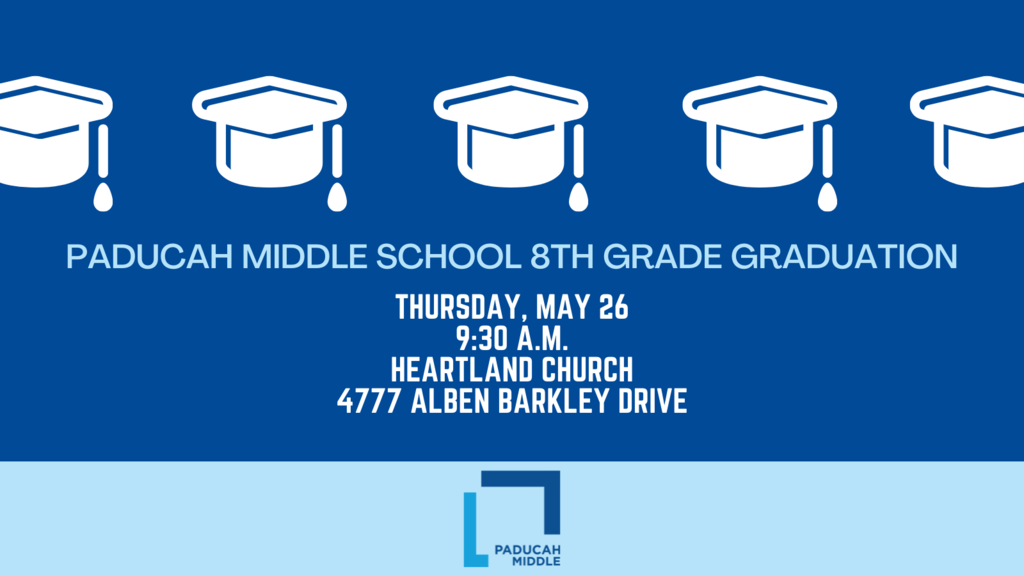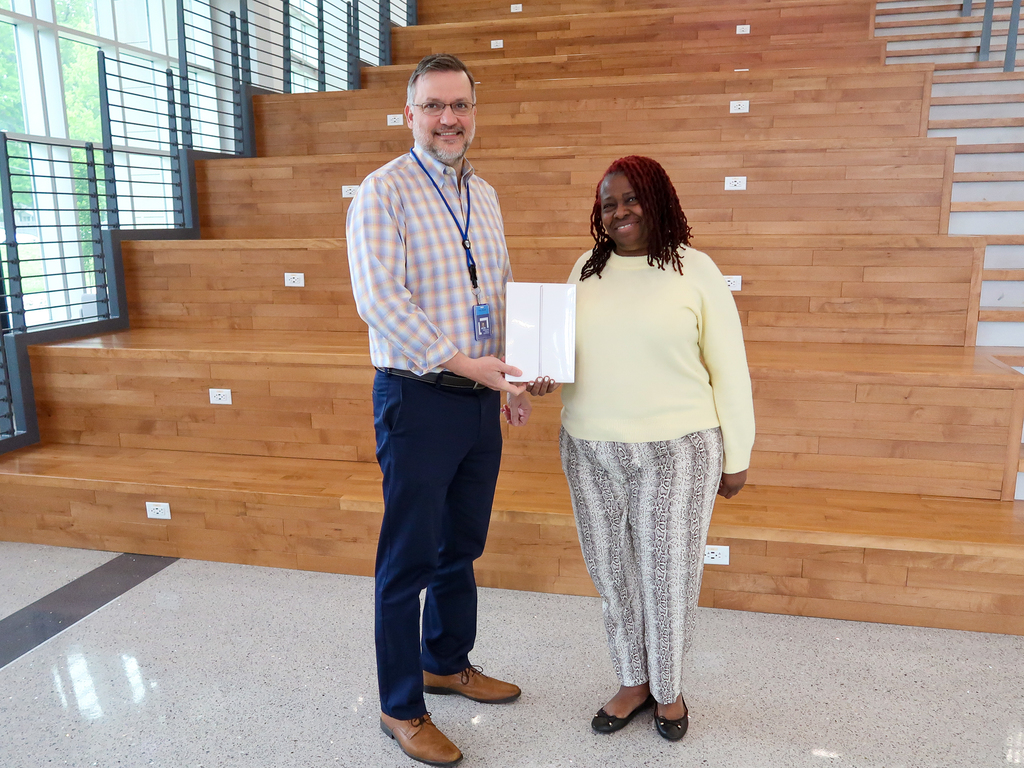 Altruismo hosted a "Black Out on Your Block Party" Friday, April 22 at Paducah Middle School. Any student in the school who didn't have missing assignments that week could purchase a ticket to attend. Each of Paducah Middle's four houses has a color, and Altruismo's color is black.The "Black Out On Your Block Party" comes from part of Altruismo's house chant that ends with "Black out on your block, black out on your block, black out!" Altruismo hopes to make this a yearly fundraising event!
It was a wonderful night to celebrate the work of our faculty and staff at the 5th Annual Regional Educators Awards and Scholarship Program at West Kentucky Community and Technical College last night! With 16 nominees, four finalists, and three winners, Paducah Public Schools were well represented on the stage! If you would like watch a video of the event, you can see it here:
https://www.youtube.com/watch?v=02gKi4gG0gM
Congratulations, and Go Big Blue!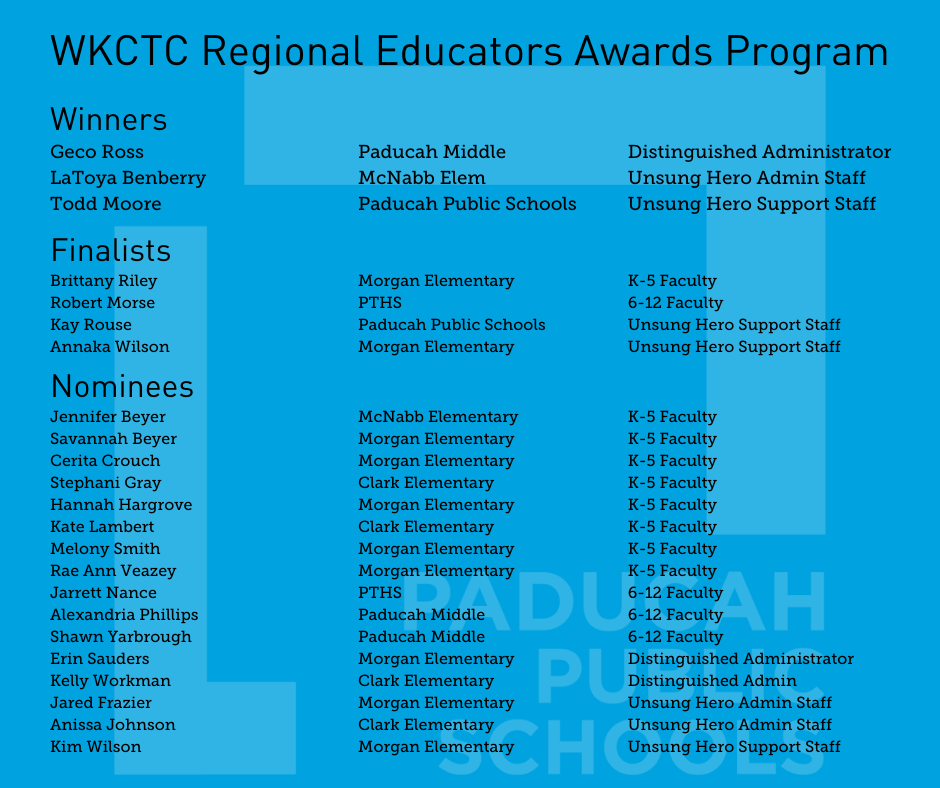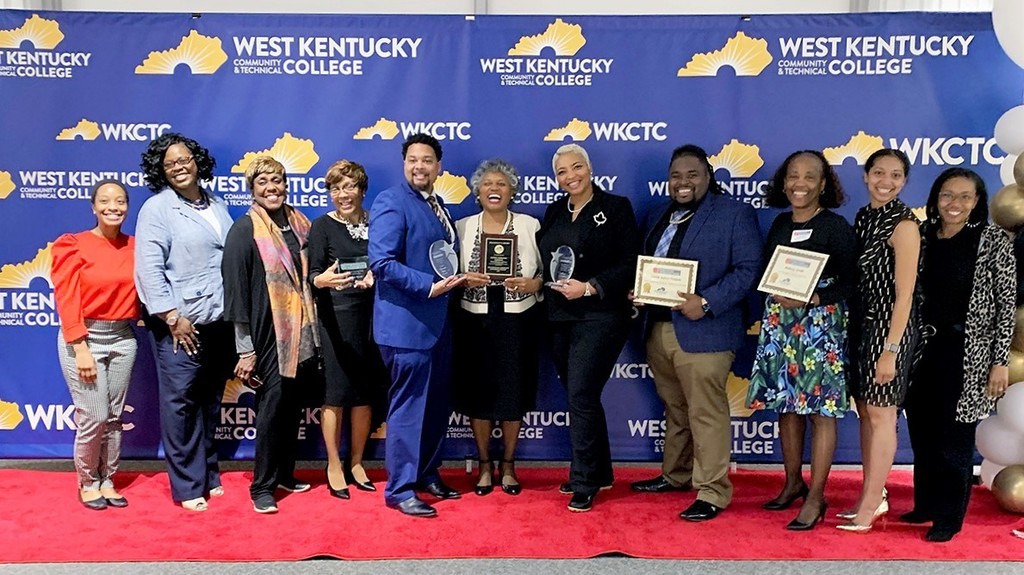 Paducah Middle School's House of Altruismo hosted Easter egg hunts for Head Start today! Candy-filled eggs that were donated from Paducah Middle School families were used for classroom Easter egg hunts, and the Easter Bunny visited classrooms and greeted students. Thanks to everyone who contributed to make this a great celebration for our Head Start friends!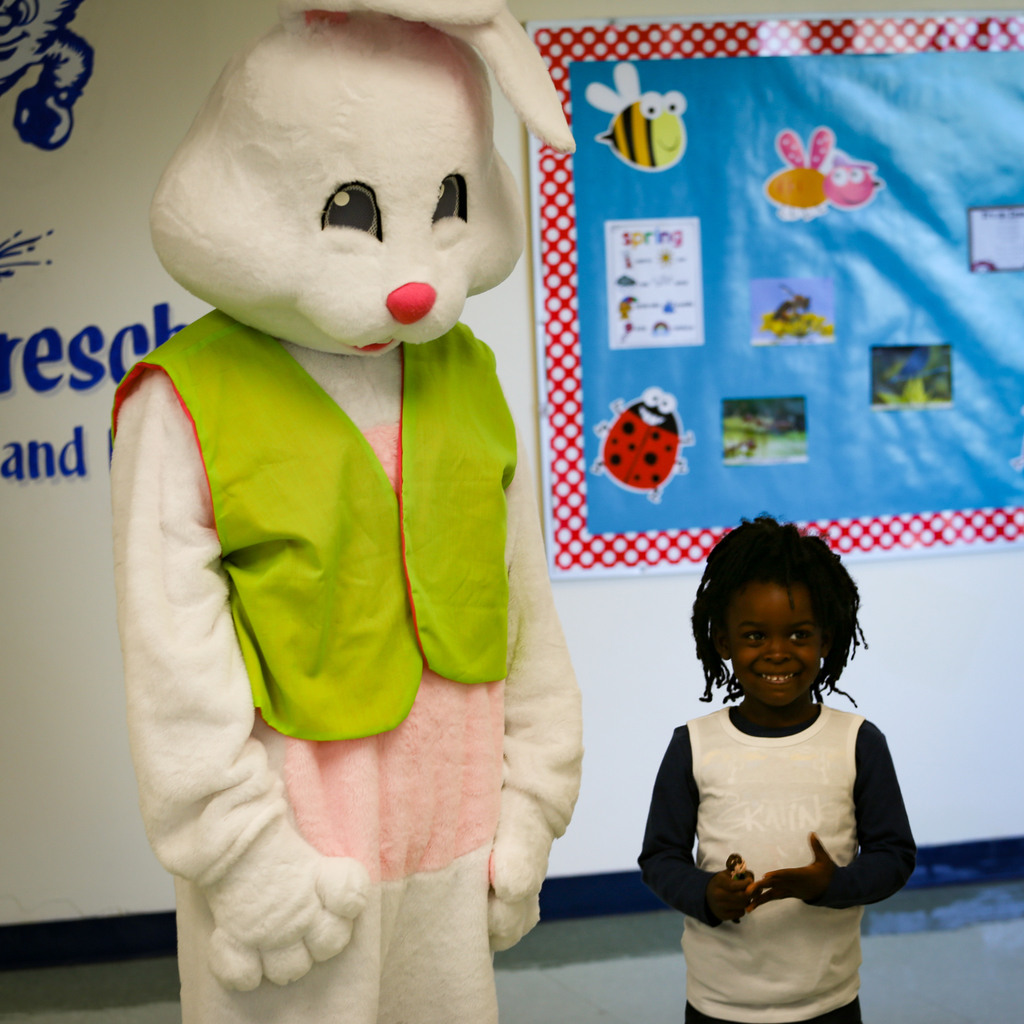 **************EARLY DISMISSAL TODAY****************** Due to the threat of severe weather, Paducah Public Schools will dismiss early today (Wednesday, April 13). Paducah Tilghman High School and Paducah Middle School will dismiss at 1:45 p.m. Clark, McNabb, and Morgan Elementaries will dismiss at 2:30 p.m. The highest probability for severe weather is from 5:00 - 7:00 p.m. The early dismissal will ensure that all our students and employees will be home before the severe weather begins. All Paducah Public Schools after school activities, including ESS and athletics, are canceled due to the threat of severe weather.
Here's a copy of next year's (2022-23) school calendar for Paducah Public Schools. You'll find a text version and a color coded version attached.
Dylan Howard, who teaches 8th grade Social Studies at Paducah Middle School, spoke to the McCracken County Commission about the positive impact of the Community Scholarship on his education at their meeting on March 28. Howard was part of a group from West Kentucky Community and Technical College who were present at the meeting to receive a donation from the McCracken County Commission for the Community Scholarship Program. Howard (PTHS '16) attended WKCTC and MSU to earn a degree in education. "As a Paducah native and Tilghman graduate, WKCTC's Community Scholarship Program gave me the opportunity to attend school without the crippling debt that comes with college," Howard said. "After graduating from Murray State in 2020, I found myself giving back to the same community that supported me. The Community Scholarship Program has given me opportunities that I never dreamed could be my reality." The Community Scholarship Program provides scholarship funding for up to 60 credit hours toward a technical certification and/or an associate degree at West Kentucky Community and Technical College, enabling students to complete two years of college tuition-free.
Reminder: AP Community Info Night is tonight at 6:30 PM at Washington Street Baptist Church. Come and hear from current and former AP students about the advantages to taking challenging classes.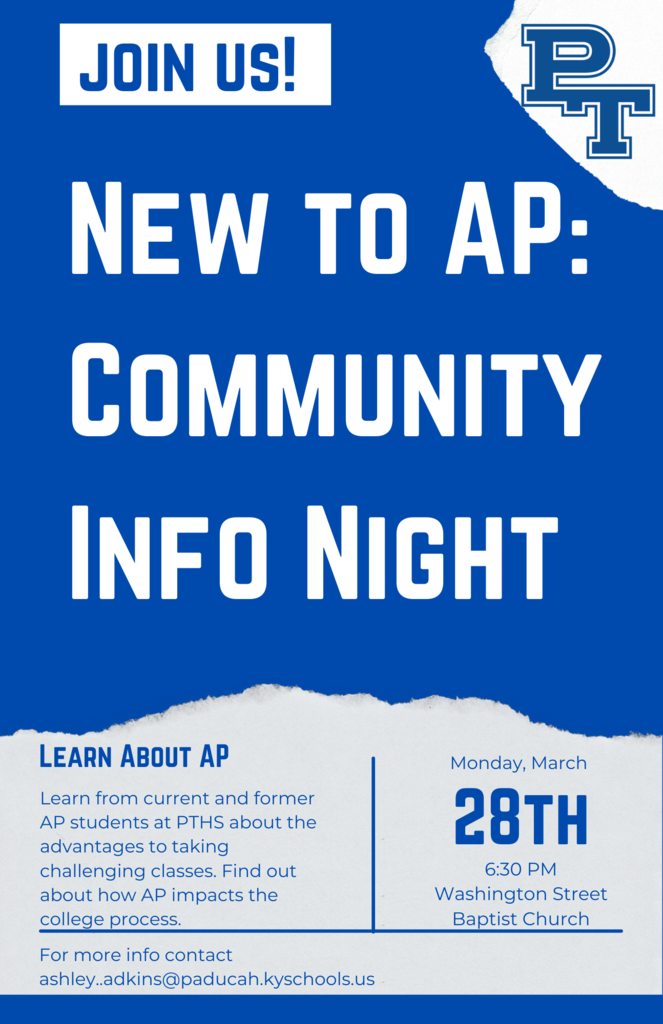 The Kentucky Middle School National Team was 5th place at USA Wrestling Middle School Duals. Representing Paducah Middle School was: Joshua Waufle at 81 lbs DJ Wilson at 167 lbs Ben Hall at 195 lbs DJ and Ben each went undefeated (7-0) this weekend. Jayven Williams picked up wins competing for Team Alternate at 120lbs. Our very own Jaedin Sklapsky was also a Team Kentucky Coach. Congrats boys and way to represent KY and PT Wrestling!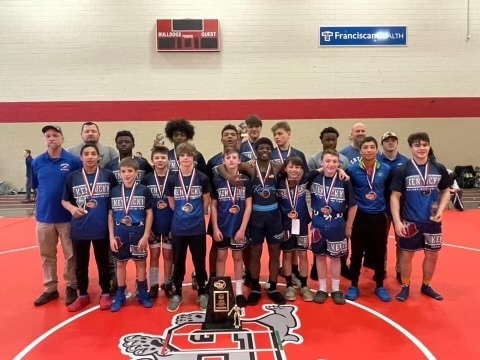 To see the Paducah Middle Soccer schedule, click "view image". Good luck to our boys and girls teams as they open the season at the McCracken County Jamboree Saturday!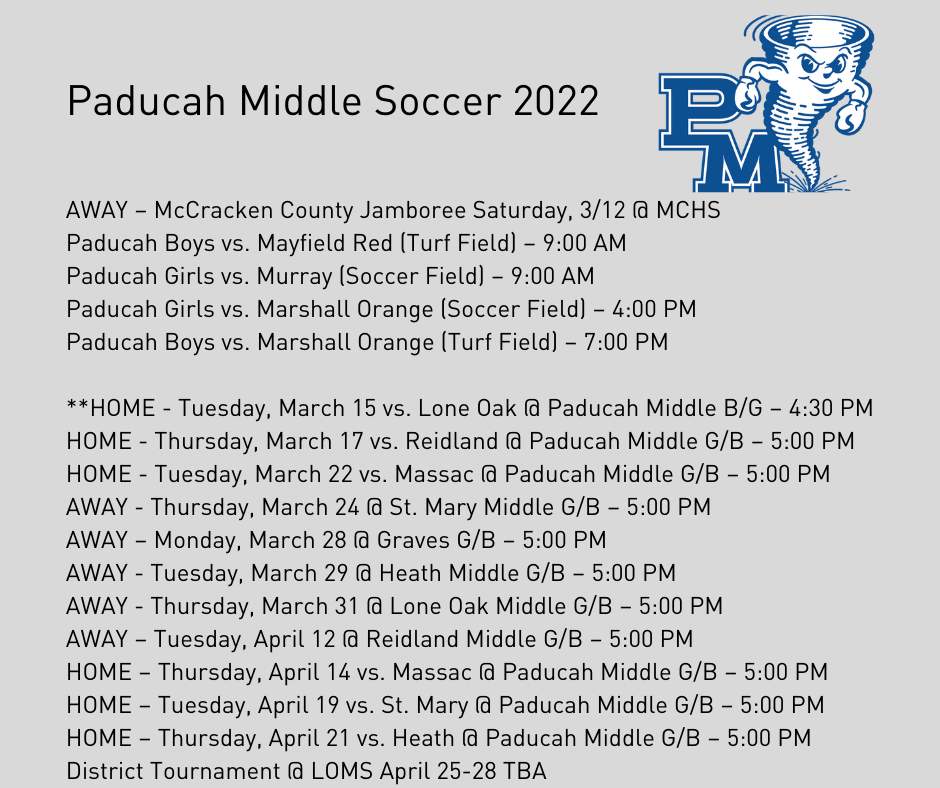 8th Grade parents and students, join us for 8th Grade Transition Night at Paducah Tilghman High School on Tuesday, March 15. Meet your teachers for next year and learn about your 9th grade schedule, career pathways, and clubs & activities at PTHS. Doors open at 5:45 PM and evening's activities will begin in the PTHS Auditorium at 6:00 PM.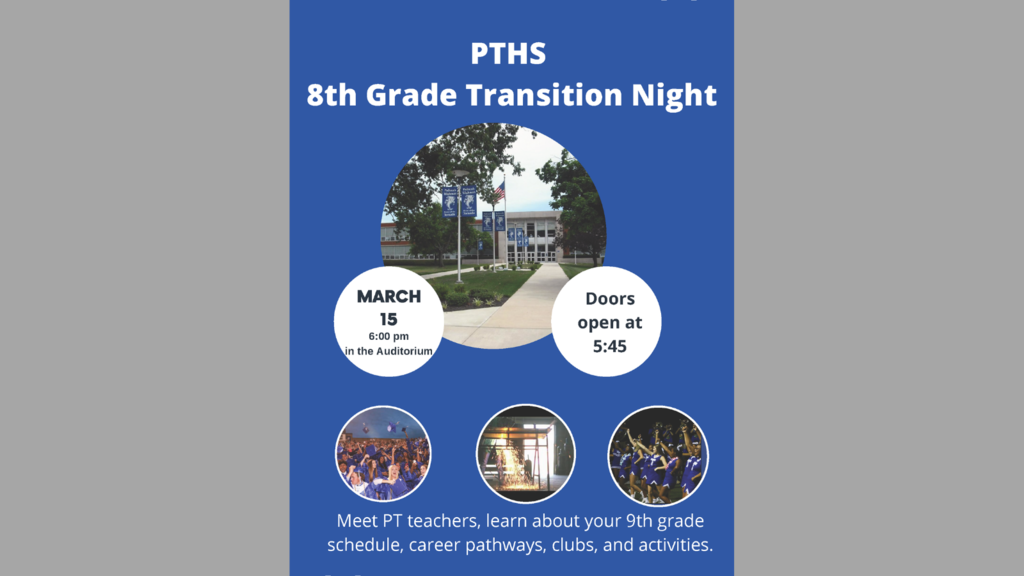 PPS Parents and Guardians, We are beginning preparations for Online Registration for the 2022-23 school year. Please be aware that the friends and family members you have listed as emergency contacts in Infinite Campus may be contacted to verify their date of birth. This is not a scam. The call will be from a Paducah Public Schools number and the caller will identify themselves as an employee of Paducah Public Schools. We are requesting this information for security purposes. The additional information will aid us in confirming the identity of designated friends or family members who come to pick your child up at school. If you are contacted and are unsure about giving us information over the phone, please contact us at 270-444-5600. We appreciate your cooperation as we work to make our schools safe and secure. Sincerely, Troy Brock, Director of Pupil Personnel Paducah Public Schools
Dear PPS Parents and Guardians, Beginning tomorrow, Wednesday, March 2, 2022, Paducah Public Schools is relaxing masking requirements. Masks will be optional in all school settings, including on buses. On Monday, district leadership received an updated recommendation from the Kentucky Department for Public Health regarding masking from the Center for Disease Control and Prevention (CDC) focused on COVID-19 community levels. Combined with the new recommendations, our district leadership has reviewed the local positivity rates, the Kentucky Incidence Rate Map, the number of COVID patients in our local hospitals, and our total number of positive cases in McCracken County. There is a significant decrease in all these measures compared to a month ago. We also see significant decreases in the number of COVID positive students and staff compared to a month ago. As outlined in the guidance, our schools will maintain the following baseline strategies: Students and staff are encouraged to remain up to date with COVID-19 vaccinations - 5-day isolation followed by 5-day masking for individuals with COVID-19 - Sick individuals should stay home - On-site testing remains available for sick or exposed persons Thank you for your support and encouragement as we continue to work together for the health and safety of each and every child. Sincerely, Dr. Donald Shively, Superintendent Paducah Public Schools
Starting Feb 21. We will have a new schedule to make up the time lost during the recent Snow days. School will start at 7:20 and end at 2:15 pm.
Paducah Tilghman High School Orchestra Director and retired band director Douglas Van Fleet was inducted into the Psi Chapter of the Phi Beta Mu International Bandmaster Fraternity Hall of Fame on Friday February 4, 2022, in Louisville, Kentucky. Mr. Van Fleet is the second band director from PTHS inducted into the Psi Chapter of Phi Beta Mu Hall of Fame. Legendary PTHS band director Floyd Burt was the first inducted in 1999.
PTHS and Paducah Middle School Orchestra Director Douglas Van Fleet received the 2022 Presidential Award and Clark Elementary Music Teacher Dale Julian was named 2022 Elementary Music Teacher of the Year at the annual meeting of the Kentucky Music Educators Association. Congratulations! (Photo credit: Lindsey Williams)
The Paducah Middle School 8th Grade Choir has been selected to perform at the 2022 Kentucky Music Educators Association State Conference. This is the first time a choir from Paducah Middle has been selected for this honor! We will be holding a preview concert at St Francis DeSales in Historic Downtown Paducah on Sunday, January 30th at 3pm. The doors will open at 2:30pm. All families and community members are welcome! Thank you for your support!