Building Strength for a Life of Learning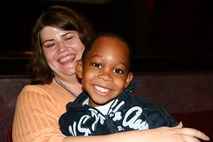 Paducah Head Start Preschool provides a quality child development program, including individualized education, health and family services, in each of Paducah's four elementary schools for about 240 preschoolers.

The learning environment helps children develop socially, intellectually and physically in a manner appropriate to their age and stage of development.

The Paducah preschool has operated since 1965. In 2002, a review team from the regional office in Atlanta conducted a full review and found that it met or exceeded all federal standards. The program is accredited by the National Association for the Education of Young Children.

Three- and four-year-old children must meet income guidelines to qualify for preschool services. Children with disabilities may be served regardless of family-income levels. Income verification, immunization record and birth certificate must be presented at enrollment. Physical and dental examinations are required. Teachers make home visits before school begins.

Free health screenings are offered in the spring for all preschoolers. Children going to kindergarten in the fall must be screened.

To receive an enrollment application for Head Start, contact the center at your nearest elementary school.