Paducah Public Schools Online Registration for 2022-23 School Year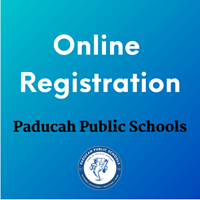 We're glad that you are registering your children for 2022-23 school year at Paducah Public Schools. You'll find all the information, forms and links that you will need for online registration here. If you can't find what you are looking for, please call us at 270-444-5600 ext. 1014 or send us an e-mail.
Online Registration Instructions for Returning Students
Parents of existing (returning) students or those who need to add a
new student to their existing household can register by logging
into their Campus Parent Portal then click on More, then click on Online
Registration. Campus Parent
Paducah Public Schools Returning Student Online Registration Instructions
______________________________________________________________________________
Online Registration for New Students (Including Transfers and Kindergarten)
For new student registration, parents should use this link. Providing an e-mail address at the start of the application is the most efficient way to complete your registration.
No email address? Parents of new students to the district who do not have an email address can use this link.
If you have questions, please send us an e-mail or call us at 270-444-5600 ext. 1014.