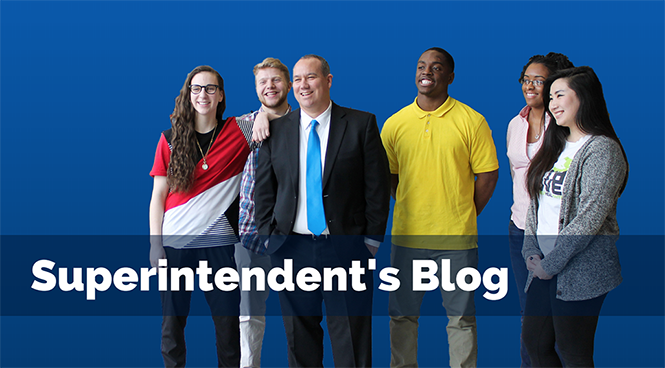 We Can Do Better
Dr. Shively's Blog
Donald Shively's Blog Page
Hello! I'm Donald Shively, superintendent of Paducah Public Schools. I like to talk about some of the big issues that are shaping our district on this blog. If your church, civic organization, or friend group would like to talk more about Paducah Public Schools, I would happy to come and visit. Send me an e-mail at donald.shively@paducah.kyschools.us or call me at 270.444.5600 and let's get together.
Making Plans to Get Back to School
Posted 7/1/2020 at 12:51:58 PM by Lisa Chappell [staff member]
As I was transitioning from a science teacher to assistant principal at Paducah Tilghman in 2003, our superintendent, Dr. Vance Ramage, impressed upon me a simple leadership decision-making strategy that I believe will always hold true. Dr. Ramage simply shared, "[Leaders] make great decisions from good information, and they make poor decisions from bad information." As we hit the middle point of our scheduled summer break, I know the questions that are on everyone's mind include the following:
When will we go back to school?

What will 'school' look like as we start back?

Will my child/I be safe at school?
As we try to answer these important and vital questions for Paducah Public Schools, I want to ensure our parents, employees, and community that how we proceed in the fall in terms of learning and safety has dominated our thoughts, our research, our conversations, and our planning before we even ended school in early May. As we are all aware, we are trying to navigate an ever-changing world with no end of the COVID-19 pandemic in sight. In regard to the questions above, our district leadership team has been researching and discussing:
the plethora of options that exist as to the best models for learning;

what the school calendar should look like to maximize learning and student and staff safety; and

how we ensure that we follow state and national protocols for safety for each and every child and adult in our school system.
Two philosophies I carry are to obtain reliable data to reach decisions and to recognize how much time you have to make them. With regard to our process, Will Black, our assistant superintendent in charge of student learning, has engaged lead primary teachers (kindergarten through third grade) from the elementary schools to gain insight on the best practices to meet each and every child's needs. Mr. Black has also engaged lead teachers from fourth and fifth grades from each elementary school, as well as leaders from each of our teams on each grade level at Paducah Middle School. Next week, Mr. Black will work with our department chairs from Paducah Tilghman and lead teachers from Paducah Head Start Preschool. All of this information is vital as we develop our plan to start back to school.
After the July 4th holiday weekend we will survey our parents and guardians using our KiNVO messaging system. We will then work with each school's elected SBDM council representatives using the information obtained through these surveys to obtain their feedback regarding student learning and safety for their schools.
Working from all the information gathered through this process, our district leadership team will update our board of education on July 20 as part of our regular monthly meeting. The discussion will focus on our process, the collective insight of our teachers and parents/guardians, and our work on the health and safety protocols that will be in place as we start back to school. The July 20 board meeting will be livestreamed on the district Facebook page and shared for those who cannot watch it live. After the normally scheduled board meeting, we will provide an email address to be used to obtain our community's thoughts and answer any questions. I expect to make a recommendation to the board for approval of Paducah Public School's Back to School Plan at a special called board meeting on July 27.
I learned early as a child of an educator and the grandson of two educators, "The only constant thing in education is change." Given the unpredictability of the pandemic the world is facing, our process and plans to get back to school might have to be altered slightly. Please know that meeting our children's individual learning needs while ensuring the health and safety of our children, our adults, and the Paducah community are our top priorities as we go forward together!
For each and every child,
Donald Shively
Superintendent
Paducah Public Schools
Our Commitments to Equity
Posted 6/8/2020 at 9:18:48 AM by Donald Shively [staff member]
I've been watching, listening and reflecting on the events happening across our nation in which citizens are speaking out against social injustice and in support of equity, fairness, and equality for all.
Over the past few days, I have seen public figures and public entities make statements in support of our African American community and against the injustices that we have seen. These words are needed and appreciated because what has happened in our democracy is wrong. I have also been thinking about action, because I am convinced that our actions reflect our character, our intentions, and our dispositions. Ultimately, our actions or reactions are what we have control of as human beings.
As superintendent of Paducah Public Schools, I want our community to see congruency between our words and our actions. So, I want to briefly mention four ongoing commitments we have made to the community as we pursue equity, fairness and justice together.
1) We are committed to our district's vision to "know each and every child by name and need."
Our district's vision for half a decade has inclusion and equity at its core. "Each and every" means inclusion of all races, all religions, and all socio-economic demographics. And when our vision talks about knowing each individual student's needs it speaks to our common goal of equity. Every child has unique needs. Our system strives to differentiate how we serve each child so that our efforts effectively meet their needs. There is still much work to be done in our pursuit of this vision, but we are committed to serving all students with fairness and equity.
2) We are committed to making implicit bias training an ongoing component of professional development for our staff.
At the end of the 2016-17 school year, a committee of faculty, staff, and administrators from across our district assessed the need for ongoing professional development around issues of diversity. The committee began by facilitating a viewing and discussion around a film called "Racial Taboo," which examined issues of race in our society. Around the same time, the district also facilitated a workshop based on Ruby Payne's book, A Framework for Understanding Poverty. This workshop is now a regular part of our new teacher orientation. Most recently, the district has provided implicit bias workshops to our three elementary schools, our middle school, and high school. We invited Marian Vasser, the University of Louisville Director of Diversity Education and Inclusive Excellence, to train our district. Our staff was excited about the training and interested in on-going professional development in this area. Mrs. Vasser is scheduled to begin a second series of workshops this summer before school starts. We are committed to ensuring that implicit bias training will be a permanent fixture in our professional development going forward.
Recently at the June 3 Kentucky Board of Education meeting, Lt. Gov. Jacqueline Coleman asked board members to work with the Kentucky Department of Education – in partnership with schools and students across the state – to develop implicit bias training for students, teachers and school leaders. We are excited that our state sees the importance of this training, and we will continue to look for ways to learn more about diversity and inclusion.
3) We are committed to increasing minority enrollment in Honors and Advanced Placement classes.
Paducah Public Schools is the only district in the commonwealth working with Equal Opportunity Schools (https://eoschools.org) to increase the participation rate of minority students in AP classes. As a result, we have seen multiple years of increases of minority students in our AP courses. This past school year was an all-time best in course enrollment for AP for minority students at Tilghman. We haven't reached our goal of having our participation rate reflect our student demographics yet, but we are improving towards our goal.
It's been encouraging for me to see how our faculty at PTHS are moving forward in a unified way on this initiative. Our teachers are driving this due to their passion for our children and the relationships they have built with students, which is our vision in action.
4) We are committed to recruiting and hiring minority faculty.
Based on KDE's Certified Staff Ethnic Count (2020) report from last fall, our district is currently third in the commonwealth in our percentage of minority staff. We want to continue to make improvement in this area. We believe that building the new Head Start close to PTHS will facilitate the enhancement of an early childhood education career path that will give our students the opportunity to experience real- world education training while they are students at Tilghman, continue their professional training in college, and then be recruited to come back to their childhood school district and community to teach.
In closing, historically, one of the foundational reasons that education exists is to educate the masses for democracy. We teach students to know their rights and how to exercise those rights. Freedom of speech, freedom of the press, freedom of association, freedom of assembly and freedom of petition -- this set of guarantees, protected by the First Amendment, are the cornerstone of our democracy. As educators we are defenders of those rights and we stand with all our students past, present, and future, who exercise those freedoms.
A long-held belief of the board and our leadership is continuous improvement. Regardless of where we are today in working toward a more just and equitable school system, we want to be better tomorrow. There is much work to be done. As educators in the Paducah Public School System, we are committed to doing this important work the right way, with the right heart.
A Message to Our District Staff
Posted 3/24/2020 at 11:57:35 AM by Donald Shively [staff member]
This morning I took a minute to glance back at my calendar to see what I was doing a month ago today. It was very ordinary. There was a weekly cabinet meeting, and some meetings about the Paducah Innovation Hub. There were activities for my kids scheduled for the evening, like choir. I have a new appreciation and gratefulness for how normal that day was.

Who could have foreseen one month ago how suddenly and how radically our everyday lives would change as a result of the COVID-19 pandemic? Yet each of you have risen to the challenge. A week or so ago, as we began making plans to move to Non-Traditional Instruction, when I met with you all in your buildings, I stressed that while our situation had changed drastically, our vision remained the same: to know each and every child by name and need. This meant our students' needs had just gone up. I emphasized that this was an opportunity for us to lead, an opportunity for us to serve, and obviously an opportunity for us to learn. So I asked you to move 3,300 students to NTI in a week, and I asked our food service and bus drivers to deliver nutritious meals and paper packets to every student that needed them.

And that is exactly what you have done.

One of our board's long held beliefs is that excellence is the only acceptable level of achievement. I've seen excellence from the faculty and staff in each our buildings and that excellence is really focused on putting others above self. I'm very proud to be a small part of this district and I hope that our community sees that we are living our vision- to know each and every child by name and need, regardless of the circumstance we are in as a community, as a state, or a nation, as we go forward.

I wish I knew when things will return to normal. The nature of this pandemic is new and uncertain, and no one can credibly say when it will end. But at some point in the future, we will glance at our calendar and see ordinary days again. Our days will once again will be filled with all the things we miss dearly- classrooms filled with students, meals out with friends, church activities, ball games- and I'm convinced that as a result of this hard time that we have endured together, we will be better, stronger, and wiser.

#BLUESBEST-

Donald Shively