Online Registration for PPS students who are returning for the 2023-24 school year opens April 1. Save the date!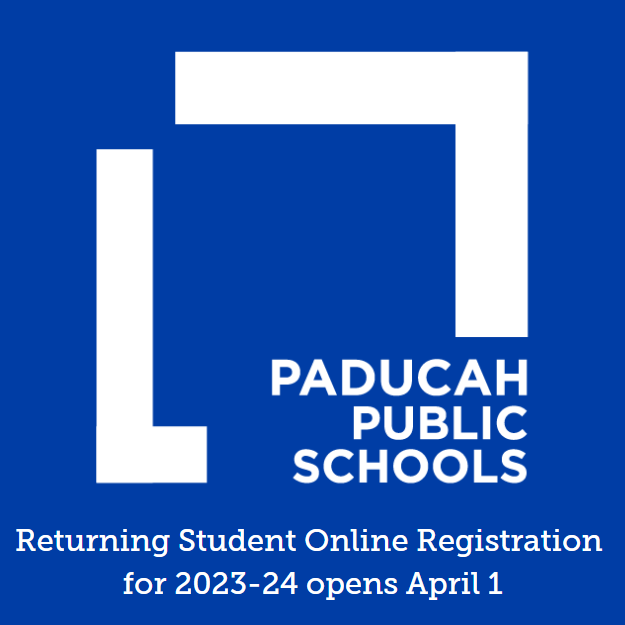 Our new Head Start building is taking shape! Our new state-of the-art Early Childhood Center, which opens in August 2023, will be able to serve 300 preschool age children in a full day setting.
The Paducah Tilghman Student Equity Advisory Council (SEAC) will host a student-led parent forum Tuesday, April 11, 5:00 PM at the Seaman's Church Institute, 129 South Water Street. All PPS parents are welcome. Please see the flyer for more information.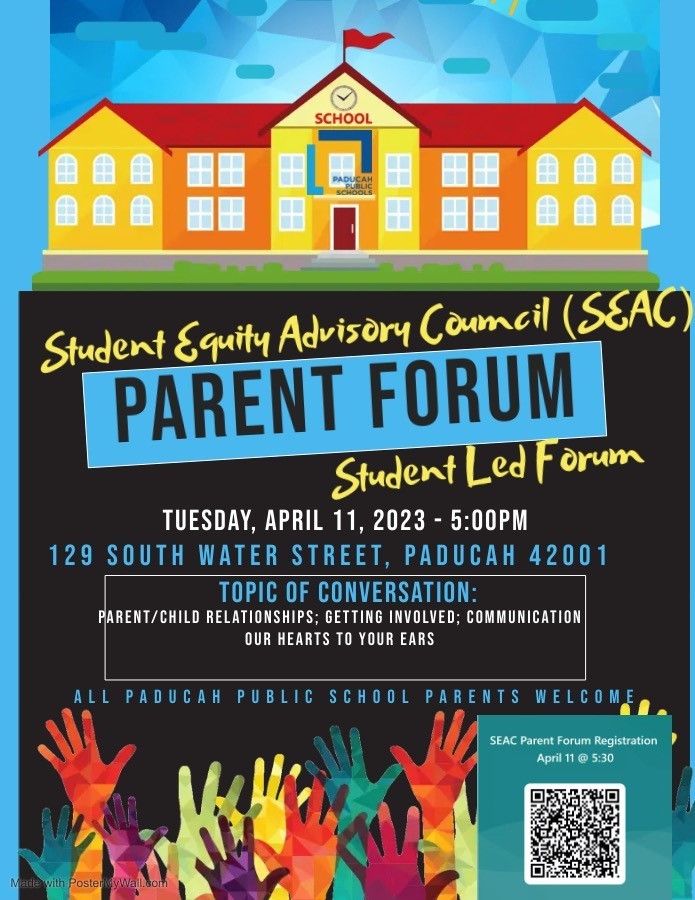 Coming in April from Paducah Life!
Paducah Middle students competed in the Murray State Phi Alpha Theta annual History Day competition where regional middle and high schools come to Murray State to compete for prizes in World and U.S. history. These 8th-grade students completed a 150-question examination and took 3rd place in the US History competition and Caroline Adkins finished 2nd place overall.
Clark Elementary hosted a Leader in Me training for teachers from the region. Bryan Flachbart led the training. Schools participating included Caldwell County, Ballard County, Mayfield Independent, Union County High School, Paducah Middle School, Clark Elementary, McNabb Elementary, and Morgan Elementary.
Online Registration for PPS students who are returning for the 2023-24 school year opens April 1. Save the date!
Here are the calendars for the 2023-24 school year.
Online Registration for PPS students who are returning for the 2023-24 school year opens April 1. Save the date!
Paducah Tilghman High School is accepting nominations for the PTHS Hall of Fame. This honor is bestowed on Lincoln High School/ Augusta Tilghman High School/Paducah Tilghman High School graduates to recognize outstanding accomplishments and to provide role models for current students. Criteria include excellence in the individual's chosen career, community service, and overall integrity. The recipient will be recognized at graduation and a portrait with a biography will hang in the Wall of Fame Hallway at Paducah Tilghman. The honor may not be bestowed posthumously. A committee will choose the recipient. The deadline for nominations is March 31, 2023. Click here to download the nomination form:
https://5il.co/1nk7m
Nomination letters should include contact information on the person being nominated; contact information on the person making the nomination; nominee's high school activities, honors, and awards; post secondary education/training; occupation; civic activities; and honors and awards. Please include a paragraph on why this person should be included in the PTHS Hall of Fame. Nomination letters should be mailed to Ashley Adkins, Assistant Principal, Paducah Tilghman High School, 2400 Washington St., Paducah, KY 42003. The deadline for nominations is March 31, 2023.
Reminder: There's no school for students tomorrow (Friday, March 17). It's a professional development day for teachers. Enjoy the long weekend!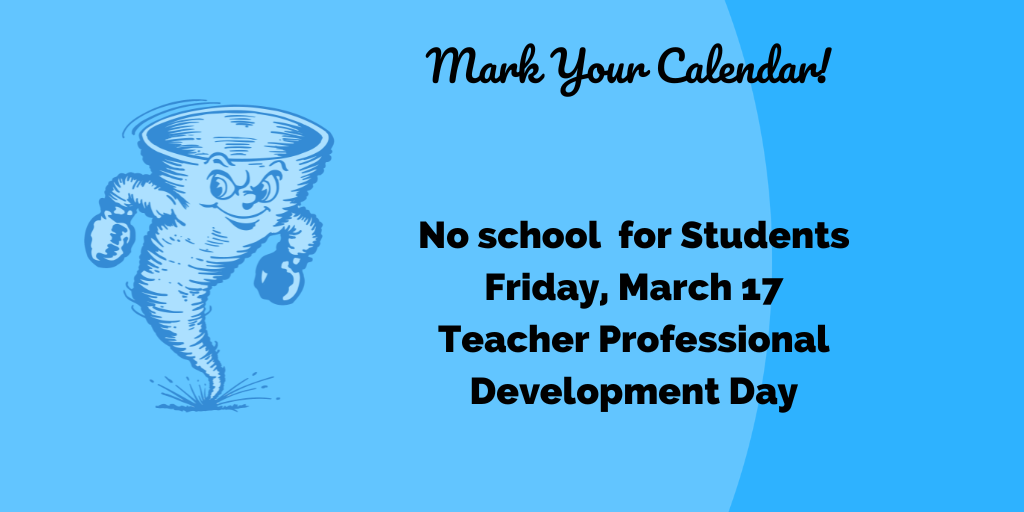 At the March meeting of the Paducah Board of Education we were pleased to honor the Paducah Tilghman High School Wrestling Team for winning the 2023 state championship. Thanks for representing us at state!
It was great to have our poetry club students from Morgan Elementary who submitted poems to the American Library of Poetry Contest share their poems at our March meeting of the Paducah Board of Education. Great work!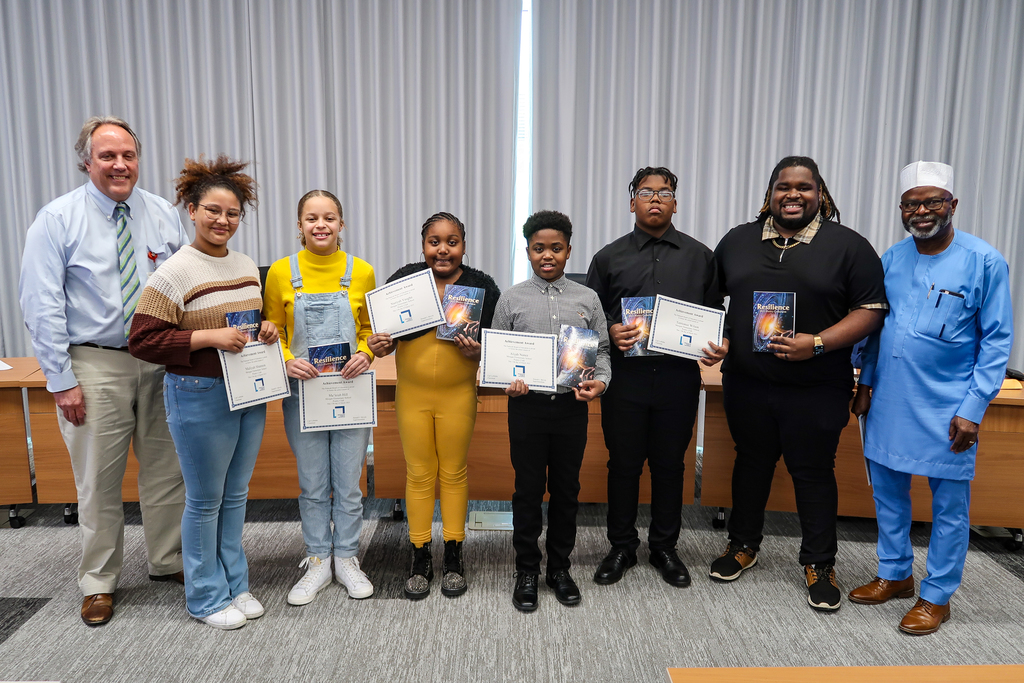 PTHS senior Diamond Gray received the Lea Wise Prewitt Playmaker Award at a presentation held Wednesday in Lexington. The award recognizes a female athlete that has contributed and given signifcant time to their community. Congratulations, Diamond!
The regular meeting of the Paducah Board of Education will be held at 5:00 pm, Monday, March 13, at the Paducah Innovation Hub, 500 South 25th Street, Paducah. This notice is in accordance with KRS 61.805 to 61.823. Here is a link to the agenda
https://5il.co/1qinu
Seniors Jayvion Powell and Mian Shaw were named to the Paducah Sun All-Purchase Basketball Team. Congratulations and thanks for your hard work on and off the court!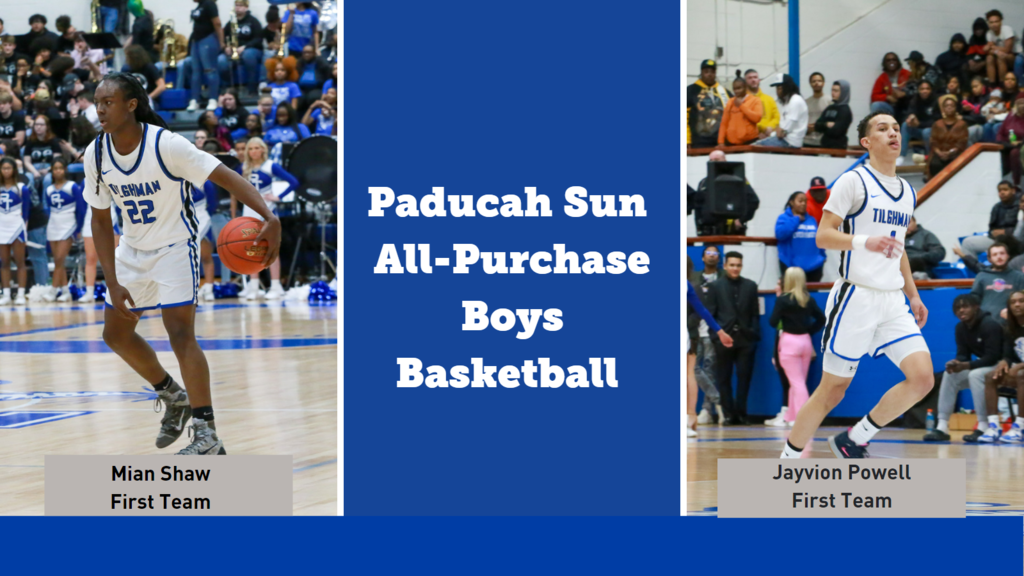 Eighth grade parents and students, please join us at the PTHS Auditorium on Tuesday, March 14 at 6:00 PM for 8th Grade Transition Night. Auditorium doors open at 5:45. You will have the opportunity to learn about your 9th grade schedule, meet your teachers, and explore career pathways, clubs and activities. There will be an AP information session prior to the event at 5:30 PM in the PT Library. There will be a greeter at the auditorium entrance to let parents in for the AP session.
Paducah Tilghman Parents, The PTHS Principal Search committee seeks your feedback as we begin the work of seeking our next principal. Please use this link -
https://forms.office.com/r/wakBzCrCKj
to answer a few questions that will help guide search process. Thank you!
Here are copies of the schedules for 2023 PTHS Baseball and Softball. Go Big Blue!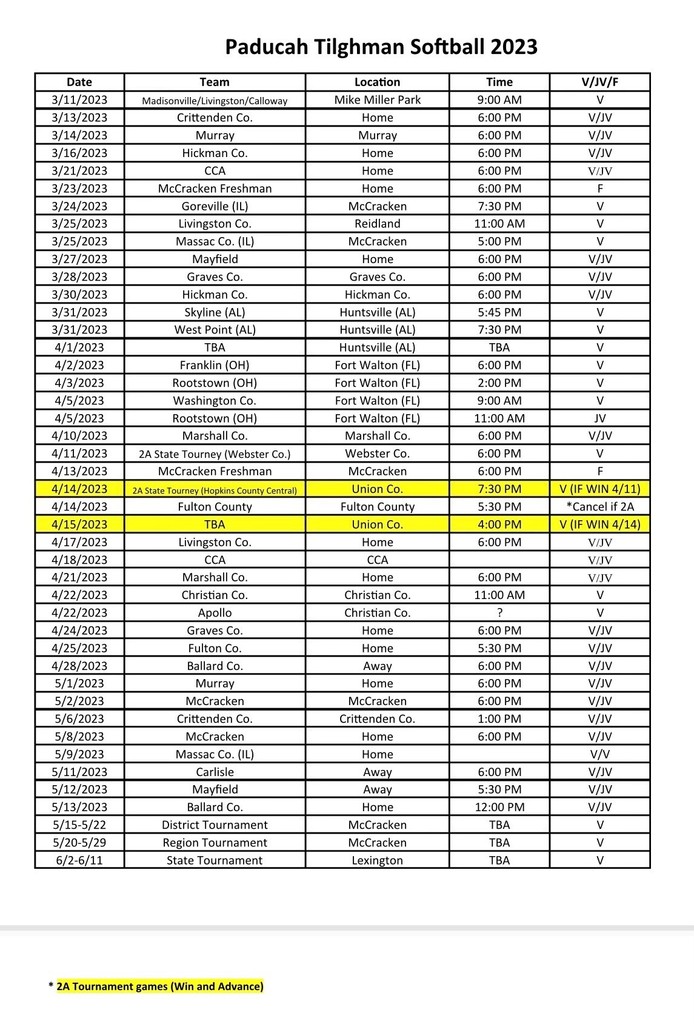 Murray State University School of Engineering hosted approximately 500 students across 14 high schools on Thursday, March 2 for Engineering Day 2023. Nineteen students from Paducah Tilghman took part in the competition. The competition was a series of science, technology, engineering and math-centered challenges designed to teach engineering and construction concepts under the direction of Murray State faculty and staff. Students competed in fifteen events across campus, including kayak construction, survival structure building, engineering design, and a CO2 car race. Bennett Wilke and Brooke Larimer won first and third in the C02 car competition.